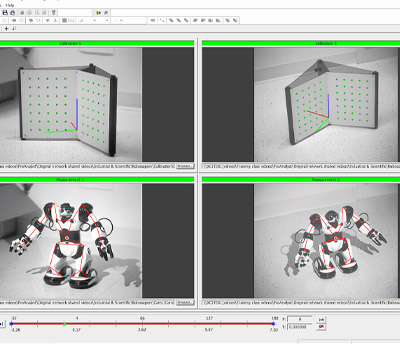 What is Calibration?
Calibration is a necessity for any quantitative motion analysis process. The computer needs scale, an origin, and a choice of coordinate axes to generate an appropriate coordinate system for the plane of motion, also called the "measurement plane."
In 3-D, calibration becomes even more crucial; the measurement plane evolves into a measurement volume, and in addition to the requirements for 2-D calibration, the precise positions of the video cameras must now be obtained as well.
3-D Calibration in ProAnalyst
With both cameras in place, simply take a snapshot of a calibration fixture from each camera (this can happen before or after the test is recorded). After the test is run, import into ProAnalyst 2023 the video and calibration image from each camera, as well as the associated fixture file, and follow the steps to calibrate the measurement volume in just a few clicks.
Once complex, time consuming, and mathematically involved, calibration is now the easiest part of the 3-D motion analysis process with ProAnalyst 2023 and a 3-D Calibration Fixture. For an overview of the 3-D motion analysis process in ProAnalyst, check out this this video from the Xcitex YouTube channel.